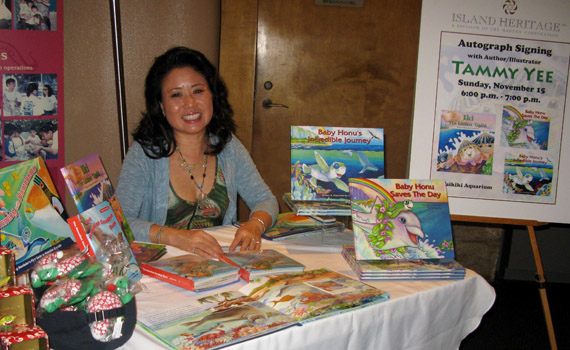 School Visits and
Book Signings
Tammy Yee has written and/or illustrated more than 24 books, including The Tsunami Quilt (written by Anthony Fredericks, Sleeping Bear Press), Honor Awards winner for the 2008 Storytelling World Awards in the Stories for Pre-Adolescent Listeners category; A is for Aloha (written by Uilani Goldsberry, Sleeping Bear Press), selected by the Hawaii Center for the Book to represent the state at the 2006 National Book Festival; Lullaby Moon (written by Elaine Masters), winner of the 2003 Ka Palapala Po'okela Award for Excellence in Children's Books; and Baby Honu's Incredible Journey, an island children's classic .
In addition, Tammy has given numerous presentations in schools and libraries across Hawaii. She has presented at the 2000 Hawaii Island Writers Conference, the 2005 Read To Me Conference in Honolulu, the 2005 and 2006 SCBWI-Hawaii Annual Conferences and the 2007 Honolulu Writer's Conference. Her paintings are on display at the Mazza Museum in Findlay, Ohio.
Her presentations depend on the age and size of the audience, and usually last 40 minutes.
For pre-school children the program begins with a reading, followed by a brief drawing demonstration and a craft activity involving paper bag puppet and/or mask making.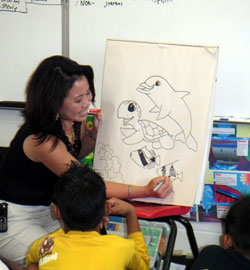 Elementary school students are read to, then introduced to the world of publishing by the sharing of actual rough sketches, dummies and original artwork. Children of this age are often fascinated by the process of taking a manuscript and making it into a picture book, and editing and revision are stressed. The program ends with a drawing demonstration.
Another variation for students involves a writing exercise, where the audience learns about the basic elements of writing a story, starting with identification of a problem, characters and setting. We work together to write the introduction of the story, which Tammy then illustrates. This works well with children in grade 4 and up and in groups of less than 25 children.
In her presentations Tammy hopes to share her enthusiasm for reading, writing and illustrating and stresses how the basic elements of storytelling are present not only in books, but also in media the children perhaps had not thought about but are familiar with: music, movies, commercials and even video games.
---
Ellie Crowe is the recipient of numerous awards, including the 2002 Hawai'i Book Publishers Association Excellence in Special-Interest Books Honorable Mention and 2002 Certificate of Merit in the literary arts category of the "Keep it Hawai'i" awards for Exploring Lost Hawai'i; 2004 Kahili Award in the literary arts category for Kamehameha - The Boy Who Became a Warrior King; and four 2004 awards from the Hawai'i Book Publishers Association for Excellence in Writing Literature and Excellence in Hawaiian Culture- Children's Literature. Her books include: The Boy Who Tricked the Ghosts, Duke's Olympic Feet and Kamehameha: The Boy Who Became a Warrior King.

Both Ellie and Tammy have done numerous school visits. Presentations feature Ellie's perspective on the writing process, sharing with students her inspiration, research methods and tips for good writing. Tammy uses visual aids such as sketches, dummies and final artwork to take students on a journey through the publishing process.
---
Ron Hirschi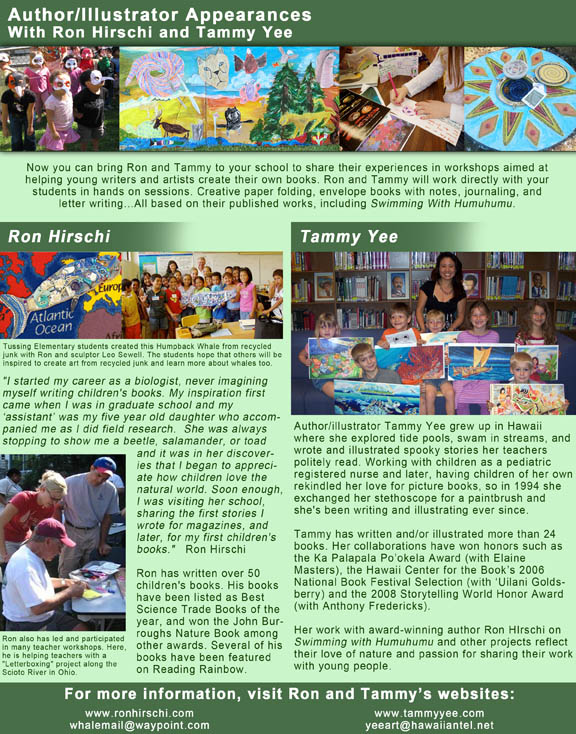 Email Ron Hirschi