Written and Illustrated by Tammy Yee
Island Heritage, 1997
---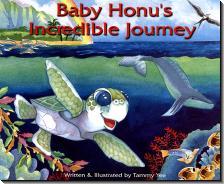 Baby Honu has just hatched from his egg. Will he find the courage to face sand crabs and sea birds on his perilous journey to the sea? And what wondrous creatures will he encounter in the ocean?

This classic tale of a turtle hatchling has been a favorite of island children for the past three years. It also features a glossary that teaches children about Hawaiian marine life.

ISBN No. 0-89610-285-8

32 Pages



---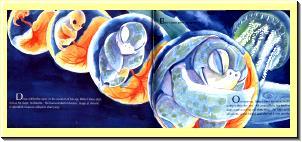 Deep within the nest, in the comfort of his egg, Baby Honu slept. And as he slept, he dreamt. He had wonderful dreams, magical dreams, of splendid creatures afloat in starry seas...Baby Honu grew and grew.
-Excerpt from "Baby Honu's Incredible Journey"
---
Review~
"Yee draws in readers through her bright watercolor and soft pastel paintings of luscious tropical settings, soft baby sea turtles' eyes, and treacherous endangering animal faces. Young readers will enjoy this adventurous tale about Hawaii's sea turtles."
From the National Council of Teachers of English's Adventuring With Books, 12th Edition by Kathryn Mitchell Pierce (Ed.).
---

Baby Honu is now available as a companion plush toy from Island Heritage. Now your keiki can snuggle up with their favorite Hawaiian green sea turtle as they follow Baby Honu on his adventures.


Order Directly from the Publisher

To The Top

To Learn More About Turtles / Color Baby Honu / Baby Honu Origami / The Story Of Kauila, The Magical Turtle

Copyright ©2007 Tammy Yee.
---
Home Page / THE KEIKI PAGE / Keiki Art Gallery / About The Author / Art / Booklist / Events / Free Backgrounds / Greeting Cards / Ordering / Origami / Privacy Statement / Story Time In Hawaii / Web Design 101 / Writer's Resources / email