Written by Elaine Masters | Illustrated by Tammy Yee | Music by Malia Elliot
Island Heritage, 2002
---
2003 Ka Palapala Po'okela Award Winner
Excellence in Children's Books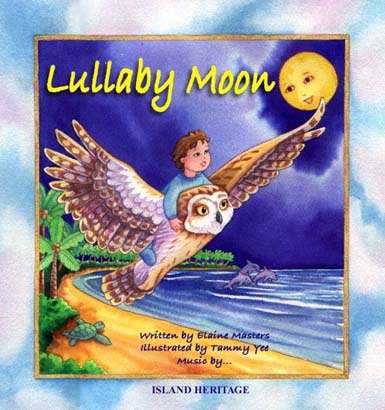 This year I had the good fortune of working with children's book author Elaine Masters on her latest book, "Lullaby Moon." Elaine is the author of numerous, well-reviewed children's books, including "Kalani and the Night Marchers" and "Yumi and her Best-Forever Friend." She is also very active in the Hawai'i Chapter of the Society of Children's Book Writers and Illustrators.
"Lullaby Moon" is a dreamy adventure about Koa, a little Hawaiian boy who would rather play outside than fall asleep. Koa soon finds himself befriended by an owl, or Pueo, who takes him on a magical exploration of the island's wildlife. Under the watchful gaze of Lullaby Moon, Koa learns how bats, bees and green sea turtles spend their night.
What intrigued me about "Lullaby Moon" was Elaine's artful blending of a whimsical bedtime story with informative facts about Hawaiian wildlife, in a lift-a-flap format. It was a challenging project— one that I am sure will delight sleepy keiki everywhere
"Lullaby Moon" features boldly illustrated lift-a-flaps and a CD by Malia Elliot, of the popular performing and songwriting duo, Leon & Malia.
---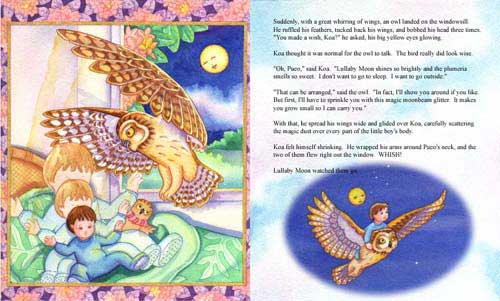 Suddenly, with a great whirring of wings, an owl landed on the windowsill. He ruffled his feathers, tucked back his wings, and bobbed his head three times. "You made a wish, Koa?" he asked, his big yellow eyes glowing.
Koa thought it was normal for the owl to talk. The bird really did look wise.
"Oh, Pueo," said Koa. "Lullaby Moon shines so brightly and the plumeria smells so sweet. I don't want to go to sleep. I want to go outside."
"That can be arranged," said the owl. "In fact, I'll show you around if you like. But first, I'll have to sprinkle you with this magic moonbeam glitter. It makes you grow small so I can carry you."
With that, he spread his wings wide and glided over Koa, carefully scattering the magic dust over every part of the little boy's body.
Koa felt himself shrinking. He wrapped his arms around Pueo's neck, and the two of them flew right out the window. WHISH!
Lullaby Moon watched them go.
-Excerpt from "Lullaby Moon"