Written by Debra Ryll / Illustrated by Tammy Yee
Island Heritage, 2000
---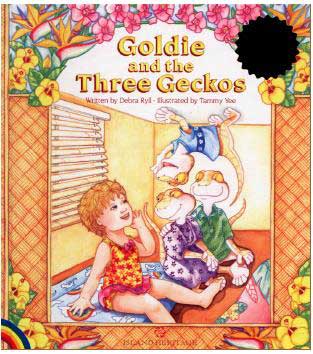 What happens when little Miss Goldie Locke from Tucson, Arizona decides to explore a tropical island beach? Goldilocks goes Hawaiian in Debra Ryll's "Goldie and the Three Geckos."

ISBN No. 0-89610-357-9

32 Pages



---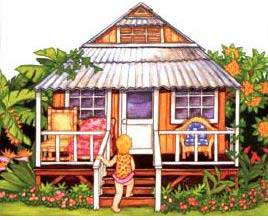 "Goldie knocked on the door and called out, but no one answered. There were three rattan chairs on the lanai (that's a porch), so Goldie decided to sit down and wait. Surely the people who lived here would help her find her way."
-Excerpt from "Goldie and the Three Geckos"
---
Review~
"Kauai author Debra Ryll's adaptation of 'Goldilocks and the Three Bears' begins with a tourist family and their mischievous daughter, Goldie, who sets off on an adventure when her parents fall asleep on the beach. Goldie discovers a house with three rattan chairs on the lanai, three bowls of saimin on the table and three futons on the floor, before falling asleep on the one that's 'just right.' The story is well written and fun to read aloud. Artist Tammy Yee creates delicate floral borders around her joyful, warm watercolor images."