Written and Illustrated by Tammy Yee
Island Heritage, 1998
---
In the misty rain forests that skirt Kilauea Volcano lives an unsightly chick named Liko. With his orange skin and sparse feathers, Liko is taunted by the other forest birds. This adaptation of the classic Ugly Duckling tale follows Liko as he blossoms into a scarlet i'iwi, a beautiful honeycreeper. Also included is a glossary that teaches children about the birds of the Hawaiian rain forest.

ISBN No. 0-89610-002-2

32 Pages



---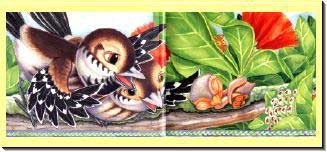 Beneath the leaf was a tiny chick, wet and shivering. Its skin was bright orange-pink. It had matted gray down above each eye and on top of its head. And when he opened his mouth, auwe!
"I don't think he will live," warned Papa. "He looks awful."
"No, Papa," smiled Mama as she cradled the chick in the fold of her wings. "He looks beautiful."
-Excerpt from "The Ugly 'Elepaio"
---
Review~
"Author Tammy Yee is a talented storyteller...Yee's paintings are professional, her nature scenes lovely."