Written and Illustrated by Tammy Yee
Island Heritage, 2000
---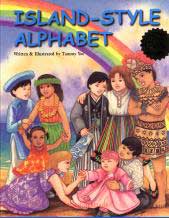 Where else in the world is A for A'ama, B for Bon dance, and C for Chinese lion? Only in Hawai'i nei!

Dedicated to the keiki of Hawai'i, Island-Style Alphabet celebrates Hawai'i's local culture with familiar island sights. A helpful addendum encourages children to search for hidden alphabet objects on every page. A matching coloring and sticker workbook is also available.

ISBN 0-89610-442-7

40 Pages



---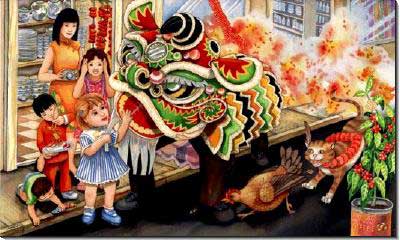 Review~
"The beauty of Tammy Yee's newest children's book is in the details...for example, the letter 'C' depicts a Chinese lion dancing through a Chinatown street. What makes Yee's book delightful are the other 'C' objects that surround the drawing's focal point: char siu hanging from skewers, a chicken being chased by a claws-out cat that is wearing a carnation lei, coffee berries on a bush planted in a can, a boy holding a crab with chopsticks and the chiles on his plate, a woman wearing a cheongsam with embroidered chrysanthemums and holding a camera, a little boy playing with a toy car, pieces of hard candy, cups on a shelf, chicks on the collar of a girl's dress, another girl with a crown flower lei, and a cricket eluding the chicken. An addendum lists some of the objects in each illustration, but not all of them, so older children- and even adults- will enjoy searching the pictures."
---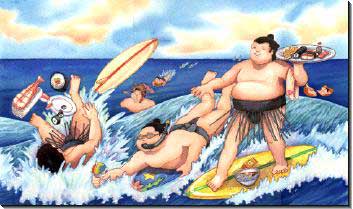 S is for Sumotori
Six surfing sumotori starting a sushi business
Set out to sea on surfboards to deliver with finesse.
Said one soggy surfer, "My friends, I am thinking,
That due to our large size, our enterprise is sinking."