More Fun Facts
---
Mauna Kea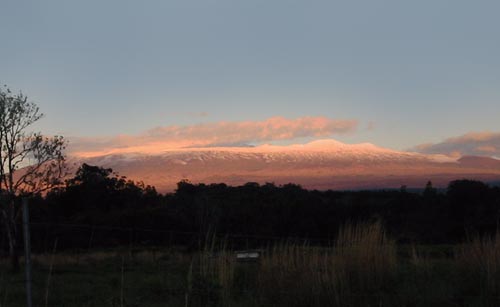 Snow-capped Mauna Kea at dawn
Mauna Kea ("White Mountain") is a dormant volcano on Hawai'i Island, the youngest, largest and southernmost island in the Hawaiian Archipelago. At 13,796 feet, Mauna Kea is the highest volcano in Hawai'i. Near the summit is Lake Wai'au, a remnant from the last glacial period.
Famous for its international array of eleven working telescopes, Mauna Kea is ideal for astronomical observations because of its height, distance from city lights, and dry conditions. To learn more about the Mauna Kea observatories, visit the University of Hawai'i Institute for Astronomy
The keiki (children) of Hawai'i Island are fortunate to have so many astronomers eager to share their knowledge with the public. The Onizuka Center for International Astronomy, named after Hawai'i-born Challenger astronaut Ellison S. Onizuka, features a nightly stargazing program where the public can view supernovas, white dwarfs, planetary nebulas and more.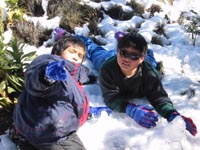 Mauna Kea is the sacred home of Poliahu, the snow goddess. Having roused the jealousy of Pele, the volcano goddess, beautiful Poliahu continues to thwart Pele's fiery attacks with her icy mantle, thus keeping Mauna Kea cold and dormant. To learn more about Poliahu and other figures in Hawaiian mythology, visit Kapunahala Elementary School's Legends of Hawaii.
In Hawai'i, families drive up Mauna Kea whenever it snows. People even bring shovels and fill the back of their pick-up trucks with snow to haul back home! We brought home snow in a cooler. Can you imagine making a snowman in 80 degree tropical weather? Only in Hawai'i nei!
---
More Fun Facts
Menu:

The Keiki Page / Coloring / Crafts / Javascript Games / Origami / Puzzles To Print / Turtle Talk / Keiki Links / Hawaii Schools / Home
---
Copyright ©2002 Tammy Yee. Photos by Tammy Yee. All rights reserved.