More Fun Facts
---
Kamehameha, The Lonely One
June 11 is King Kamehameha Day in Hawai'i. This official holiday was established in 1871 by King Kamehameha V to honor his grandfather, Kamehameha I. The celebration begins with a parade of floral floats, costumed riders on horseback, and marching bands that begins in downtown Honolulu and ends in Waikiki. Across from the 'Iolani Palace, the regal statue of Kamehameha I is draped in fragrant flower lei.

Legend surrounds the birth and death of Hawai'i's greatest warrior-king. Kamehameha I, also known as Kamehameha the Great or Pai'ea Kamehameha, was born in North Kohala on the island of Hawai'i, sometime between 1748 and 1761. It is said that he was born on a stormy night, during which a bright star, Kokoiki, appeared in the heavens. Some historians believe that Kokoiki refers to Halley's Comet, which was visible in the night skies in November or December of 1758.

Kahuna, or Hawaiian priests, witnessing the celestial event prophesied the birth of a child who would grow up to be a mighty chief, destined to unite all of the Hawaiian Islands. At that time, Hawaii was besieged by warring clans. The ruling ali'i (chief) of Hawaii island ordered the infant to be put to death.

Thus the swaddled newborn was spirited away to Waipi'o Valley, where he was raised in secrecy by foster parents. He was named Pai'ea, after the hard-shelled crab found along the Hawaiian shore. Pai'ea was safe and well cared for in Waipi'o Valley.

In time, the aging ali'i no longer felt threatened by Pai'ea. After five years Pai'ea was allowed to return to his parents in Kailua-Kona. There he was given the name Kamehameha, or "The Lonely One," and finally allowed the training and care befitting a young ali'i.

Kamehameha grew up to be the great leader as the priests had foretold. The young warrior was present when his uncle Kalani'opu'u boarded Captain James Cook's ship, the HMS Discovery in 1779. Bright, ambitious and resourceful, he used foreign weapons and skills to his advantage. In 1790 he and his warriors confiscated a small schooner, the Fair American, that was captured in retaliation for an earlier skirmish with another American vessel. The lone survivor of the Fair American was an Englishman named Isaac Davis. Davis, along with another prisoner named John Young, eventually became a trusted advisor to Kamehameha, teaching him the use of the muskets and cannon aboard the small ship.

Kamehameha soon amassed a formidable army and a huge fleet of war canoes. By 1810, the islands of Hawai'i, Maui, O'ahu and Kaua'i were under his rule, and the Hawaiian Kingdom was established.

With unification came peace and prosperity. Kamehameha the great warrior became known as a great statesman. Among his accomplishments were the establishment of trade with foreign countries and the development of the sandalwood industry. He was also known as a just ruler, introducing the Law of the Splintered Paddle, which protected the weak from the strong and insured that every man, woman and child had the right to "lie down to sleep by the roadside without fear of harm." In 1816 he introduced the Hawaiian flag, with its Union Jack in the upper corner and 8 stripes representing the eight main Hawaiian islands.

Kamehameha died on May 8, 1819 in Kailua-Kona on the island of Hawai'i. As was the ancient tradition, his bones were hidden to protect their mana, or power. To this day, no one knows where he rests.

King Kamehameha Crossword Puzzle / Color King Kamehameha

Suggested reading for children:
"Kamehameha the Great," by Julie Stewart Williams, illustrated by Robin Yoko Burningham. Published by Kamehameha Schools/Bernice Pauahi Bishop Estate, Honolulu, Hawai'i, 1993.




Copyright ©2001 Tammy Yee. Paintings by Tammy Yee. All rights reserved.
---
More Fun Facts
Menu:

The Keiki Page / Coloring / Javascript Games / Origami / Puzzles To Print / Turtle Talk / Keiki Links / Hawaii Schools / Home
---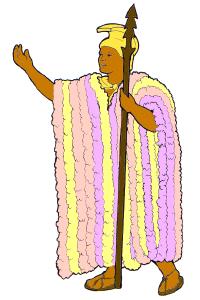 King Kamehameha I
Also known as: Kamehameha the Great,
Pai'ea (hard-shelled crab)
Kamehameha means "The Lonely One"
Born: 1748-1761 (possibly in November or December of 1758)
Died: May 8, 1819
Mother: Keku'iapoiwa
Father: Keouakupuapaikalaninui
Favorite wife: Ka'ahumanu
---
Cool Facts About The Kamehameha Statue
Did you know that there are 4 very similar statues of Kamehameha I?
The first statue was commissioned by King Kalakaua and created by an American sculptor named Thomas Gould. It was cast Paris in 1880 and shipped from Germany to Honolulu. As fate would have it, the ship carrying it caught afire sank off the Falkland Islands. Luckily, the orignal mold used to cast the statue had not been destroyed, and a second statue was made and successfully shipped to Honolulu, where it was installed in front of Ali'iolani Hale, across from the 'Iolani Palace in 1883 (and where it still stands today).
The original statue was later recovered from the shipwreck and installed near Kamehameha's birthplace, in Kohala on the island of Hawai'i.
The third statue was cast using a mold made from the Honolulu statue, and it was erected in the National Gallery in Washington D.C. in 1969.
The fourth statue was commissioned by a resort and cast in Italy in 1993. After much controversy, during which it was kept in a crate, it was finally installed in the town of Hilo on the island of Hawaii.