---
5. Assemble your model by glueing the white tabs together, or taping the shapes together on the underside. Each pentagon should be surrounded by five hexagons. Refer to illustration of completed model at the top of page as needed.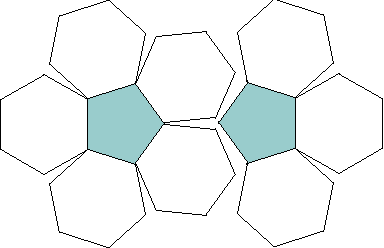 Now you have a snowflake holiday ornament to grace your Christmas tree!
Copyright ©2001 Tammy Yee. All rights reserved.
No portion of this website may be reproduced without the prior written consent of the author.
---
Print Hexagons / Print Pentagons / To The Top
Menu:

The Keiki Page / Coloring / Crafts / Javascript Games / Origami / Puzzles To Print / Turtle Talk / Keiki Links / Hawaii Schools / Home