---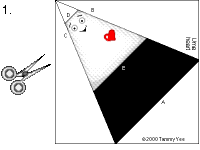 Cut out image along outer solid lines.
---

2a. With printed side facing down, fold up on line A.
b. Fold diagonally on line B.
c. Repeat diagonal fold on line C.
d. Fold down "tip" on line D.
---

3a. Fold "nori" up on line E.
b. Turn origami over, with printed side facing up.
c. Fold down "nori" over ume heart.
d. Repeat on other side, and your musubi is pau (finished)!
You can use your musubi as gift tags by writing on the white undersurface of the nori.
Copyright ©2001 Tammy Yee. All rights reserved.
No portion of this website may be reproduced without the prior written consent of the author.
---
Print Musubi Origami / To The Top
Menu:

The Keiki Page / Coloring / Javascript Games / Origami / Puzzles To Print / Turtle Talk / Keiki Links / Hawaii Schools / Home