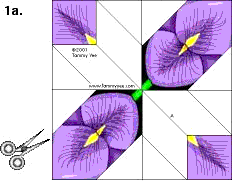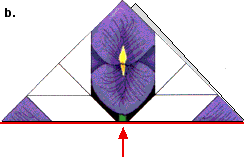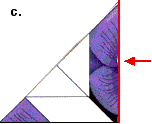 1a. Cut out image along outer solid lines.
b. Fold along diagonal line A as shown.
c. Fold in half again, along vertical line marked in red.
---

2a. Note diagonal line, marked in red.
b. Fold up along diagonal line.
c. Unfold.
---

3a, b & c. Carefully open upper "flap" along creases to form a diamond, as shown.
---

4a. Repeat steps 2 and 3 on the reverse side, so that both sides resemble diamonds.
b & c. Fold along the red lines so that the corners meet at the center, as shown.
---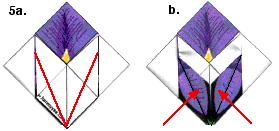 5a. Fold along red lines,
b. toward the center so that your origami appears as shown. Repeat on the reverse side.
---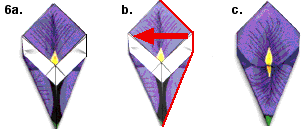 6. Fold right side of origami over so that the picture of the large flower petals is showing. Repeat on reverse side.
---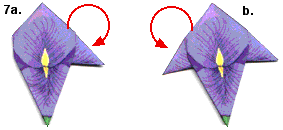 7. Fold inner petals down as shown. Now your origami iris is pau (finished)!
Copyright ©2001 Tammy Yee. All rights reserved.
No portion of this website may be reproduced without the prior written consent of the author.