Materials:
Shoebox or suitable alternative
Glue or tape
Thread
Dolphin or Humpback Whale Origami
Pictues from this page
Paint, colored paper or crayons, to decorate the inside of the shoebox
---
Instructions:
1. Prepare the inside of the shoebox by painting it blue or lining it with blue paper.
2. Fold dolphin and/or humback whale origami as directed: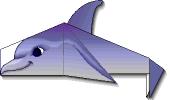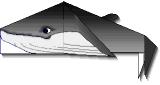 3. Cut out the pictures of fish and coral printed from this page.
4. Arrange your origami and pictures anyway you like...you can use the thread to dangle the fish and origami from the ceiling of the shadowbox, and glue the coral in place. Use your imagination and have fun!
More Dolphin and Whale Projects:

Print Dolphin Origami / Print Humpback Whale Origami