A Collection of Poems by Sherry Gervacio, Illustrated by Tammy Yee
M&S Creative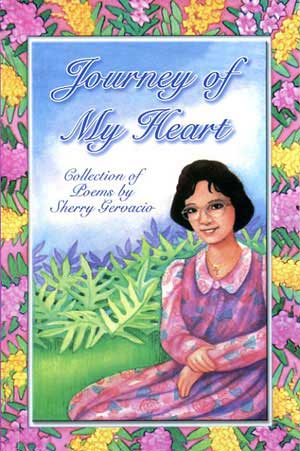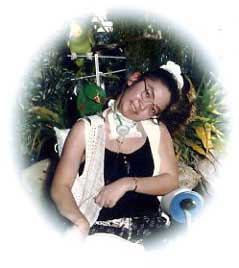 Sherry Gervacio, affectionately known to family and friends as "Chu-Chu," was born in North Kingston, Rhode Island. When she was three months old, Sherry and her family moved to Honolulu, Hawaii, where as a young girl she excelled in school, dreamt of becoming a pediatrician and spent her summers vacationing in the Philippines.
At seventeen, Sherry suffered a sudden cardiac and respiratory arrest. After weeks of tests and a biopsy, she was diagnosed with Reducing Body Myopathy, a rare form of muscular dystrophy which has left her wheelchair and ventilator dependent.
Returning home after a six-month hospitalization, Sherry graduated from high school with honors and enrolled at Kapiolani Community College. Three years later, the gradual progression of her illness forced her to abandon her studies.
Unable to speak, relying only on hand gestures and her computer to communicate, Sherry has found her voice in poetry. Poignant and inspiring, Journey Of My Heart documents a young woman's journey and triumph through faith and the love of family.
Sherry believes that no matter what obstacles you face in life, your dreams can come true.
Please support Sherry's vision: Contact Matea Gervacio, (808) 381-8112, MGervacio@MSCreative.Biz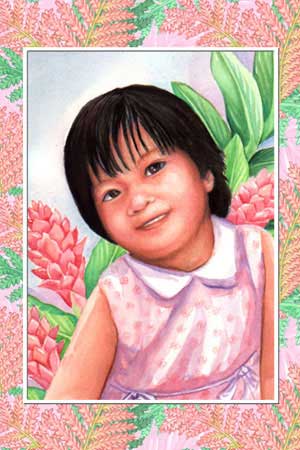 Poetry Of My Heart
I have a song deep, deep in my heart
That comes from the boundaries of my soul.
A song overflowed with special meaning in my life...
A song filled with poetry of emotions...
It is the Poetry of my heart.
I have a song deep, deep within myself
That is yearning to come out.
Feelings I hide...
Feelings only my heart can see...
It is the poetry of my heart.
I share the hardships in my life.
The tears in my eyes...
The anger and fear I feel inside...
An emotional window of myself...
It is the poetry of my heart.
I write to express how I feel.
I write from what I know.
The sadness, anger, and joy...
That comes deep, deep within me.
It is the poetry of my life.
It is the poetry of my heart.
~From Poetry Of My Heart, a collection of Poems by Sherry Gervacio. ©2002 Sherry Gervacio. Illustrations ©2004 Tammy Yee.